Oil Change Service near Richmond, VA

Get Fast and Reliable Service at Pohanka Honda of Fredericksburg
Stop by any auto repair shop, car dealership, or service center, and everyone there will be able to tell you how important it is to keep up with regular oil changes for your vehicle. But at the same time, it's just as important to entrust your vehicle to a service team you can count on. That's where the Service Department at Pohanka Honda of Fredericksburg comes in. Our trained experts are committed to getting you back on the road with a fast, friendly, and reliable oil change service near Richmond, VA, when you need it.
For such a routine service, getting your vehicle's oil changed regularly plays a crucial role in maintaining overall well-being, performance, and condition. While you're taking trips into D.C., running errands around town, and making your daily commute, the oil in your engine is busy making sure every ride is smooth and controlled. Without regular oil changes, the many moving parts in your engine could accumulate dirt and sludge, which could potentially cause disrepair and malfunctioning. What's more, the fuel efficiency and ride quality of your vehicle could suffer if your vehicle's oil isn't changed every 3 months/3,000 miles – depending on the manufacturer.
At Pohanka Honda of Fredericksburg, we pride ourselves on being the reliable and convenient choice when your vehicle needs an oil change service near Richmond, VA. We provide both conventional and synthetic oil changes, and service vehicles of all makes and models. Our Service Department is open seven days a week, and we offer both early-morning and late-evening hours to ensure there's always time to fit an oil change into your busy schedule. We also provide great oil change coupons and specials for our valued customers.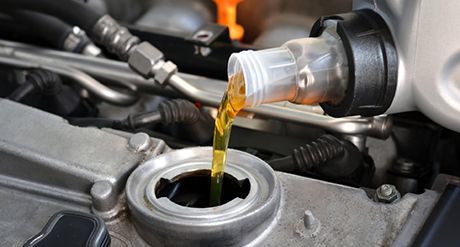 While at our dealership, both you and your vehicle will be treated with the care and respect you deserve. Our state-of-the-art facility has 37 service bays to get you in and out quickly, and with our skilled technicians, you can count on our Service Department to get it right the first time. Every service at Pohanka Honda of Fredericksburg comes with a complimentary car wash, and we also offer courtesy loaner cars, an onsite rental car facility, and express check-out. There's even an exclusive service lounge with massage chairs, HDTVs, a gourmet coffee bar, and complimentary Wi-Fi access.
At Pohanka Honda of Fredericksburg, it's easy to keep your vehicle running smoothly when you visit our Service Department for your vehicle's next oil change – Just Bring It In! Our dedicated team is committed to delivering peace of mind, friendly and reliable service, and outstanding customer satisfaction, so be sure to stop by when your vehicle needs an oil change service near Richmond, VA. There's no need to make an appointment – come by our Service Department today at 60 South Gateway Drive in Fredericksburg, VA.