Car Battery Check Service near Woodbridge, VA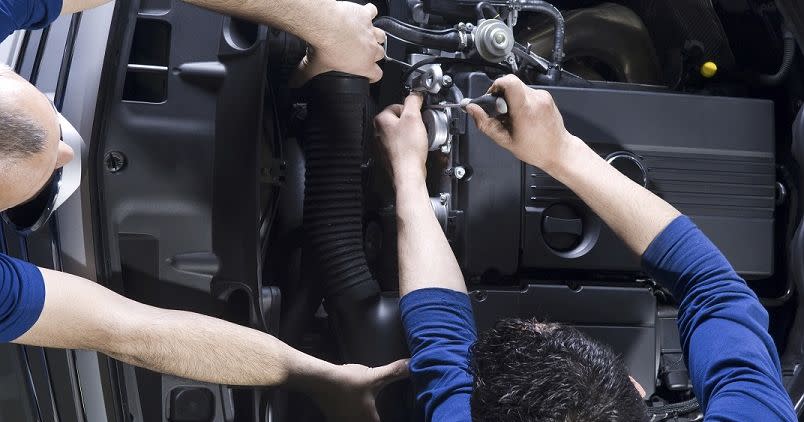 Your reliable set of wheels deserves top-notch care! Here at Pohanka Honda of Fredericksburg, our expert Service Department is ready to become your go-to provider for all types of automotive service, including routine car battery checks. If it's been a while since this crucial component was examined, be sure to find a convenient time in the future to visit us. We're open seven days a week, so this shouldn't be hard to do!
How Often Should I Replace My Battery?
Just like any other part of your car that experiences frequent use, it's important to stay on top of how your battery is performing. Once you start to experience issues like dimmer interior illumination or your engine struggling to turn over, you'll want to visit our expert mechanics as soon as possible for a replacement. If you put this off too long, you might end up stranded with a dead battery, causing a significant inconvenience. Depending on your driving style and several other factors, you should expect your battery to last about four years. Since this can vary, be sure to consult your Owner's Manual to learn what's recommended for your specific model!
Auto Service at Pohanka
As part of the Pohanka Value Package, our Service Department strives to provide outstanding automotive service at a price you can afford. A few ways that we aim to make your experience with us as exceptional as possible is by never requiring appointments and offering convenient hours every day of the week. That way, you don't have to plan weeks ahead of time or rearrange your life just to get your car the attention it needs. During your visit for a battery check, you'll be able to relax in our accommodating waiting lounge with a free cup of coffee while we're on the job. Or, if you have some errands to run, feel free to hop on our courtesy shuttle!
Online Tools & Resources
Even when you're not at the dealership, we still aim to please with our selection of tools right here on our website. Although appointments are never necessary, we still offer this option for customers who like to plan ahead with our easy-to-use reservation form. In addition, any questions about batteries or other components can be submitted to our team with the Ask a Tech tool for a quick reply. Finally, we're constantly updating our service specials to help you get the most out of your budget!
Visit Pohanka Honda of Fredericksburg for a car battery check service near Woodbridge, VA, that you can trust. Our staff members are ready to tackle just about any challenge, so feel free to put us to the test today. We look forward to your visit!
Service Hours
540-654-7003
| | |
| --- | --- |
| Monday | 5:30 am - 10:30 pm |
| Tuesday | 5:30 am - 10:30 pm |
| Wednesday | 5:30 am - 10:30 pm |
| Thursday | 5:30 am - 10:30 pm |
| Friday | 5:30 am - 10:30 pm |
| Saturday | 6:00 am - 7:00 pm |
| Sunday | 7:00 am - 7:00 pm |
Testimonials
GOOGLE
7-8-2020
GOOGLE
7-8-2020
GOOGLE
7-7-2020
GOOGLE
7-6-2020
GOOGLE
7-6-2020
GOOGLE
7-6-2020
GOOGLE
7-6-2020
GOOGLE
7-6-2020
GOOGLE
7-6-2020
YELP
7-6-2020
YELP
7-6-2020
YELP
7-5-2020
GOOGLE
7-5-2020
GOOGLE
7-5-2020
GOOGLE
7-4-2020
GOOGLE
7-4-2020
YELP
7-4-2020
YAHOO
7-4-2020
GOOGLE
7-3-2020
GOOGLE
7-3-2020
GOOGLE
7-3-2020
GOOGLE
7-2-2020
GOOGLE
7-2-2020
GOOGLE
7-2-2020
GOOGLE
7-2-2020
YELP
7-2-2020
YAHOO
7-2-2020
GOOGLE
7-1-2020
GOOGLE
7-1-2020
GOOGLE
7-1-2020
YELP
7-1-2020
GOOGLE
6-30-2020
GOOGLE
6-30-2020
GOOGLE
6-30-2020
YELP
6-30-2020
GOOGLE
6-29-2020
GOOGLE
6-29-2020
GOOGLE
6-29-2020
GOOGLE
6-29-2020
GOOGLE
6-29-2020
YELP
6-28-2020
GOOGLE
6-28-2020
GOOGLE
6-28-2020
GOOGLE
6-28-2020
GOOGLE
6-28-2020
GOOGLE
6-28-2020
Read More